Hey what's up guys, we are now on to the fourth week of the
Beauties On Fire
collab, and this week's chosen theme is "Movie/Book".
To be completely honest I had no single clue on what to do. I couldn't decide on whether I should do a movie or a book, or a book that also has a movie adaptation. I tried to think through every possible title that I could make of, and for a second I also felt that I should probably skip this week's challenge.
That is, until a lightbulb suddenly flashed in my head and I thought, I could totally be Mia Wallace!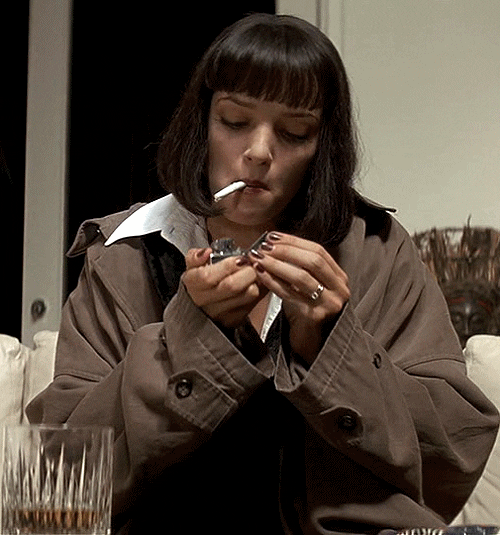 I'm pretty sure most of you would have heard of the movie Pulp Fiction by now. I mean, it's such a hit. And it's easy for me to recreate Mia's look since I already sported the same hairstyle haha.
I do have an oversized black blazer but it was nowhere to be found. So I substituted it with my leather jacket instead. Doesn't look bad at all!
I was so happy to have found these baggy pants hidden in the bottom of my closet, I only ever wear them to formal events like job interviews and such though.
Both the white blouse and the black baggy pants are actually thrifted! Sorry I can't provide much information on where to get them! But maybe you can find them in thrift stores too?
Here's the close-up of the makeup I did. I went with some brown eyeshadow and pink lip gloss. My left eyebrow's a little screwed though 😣
And that's it for my take on the Movie/Book theme!
Be sure to read everyone else's posts below!
I hope you have enjoyed this post and, thanks for reading!
xoxo,
A.